LA VIRGEN DE GUADALUPE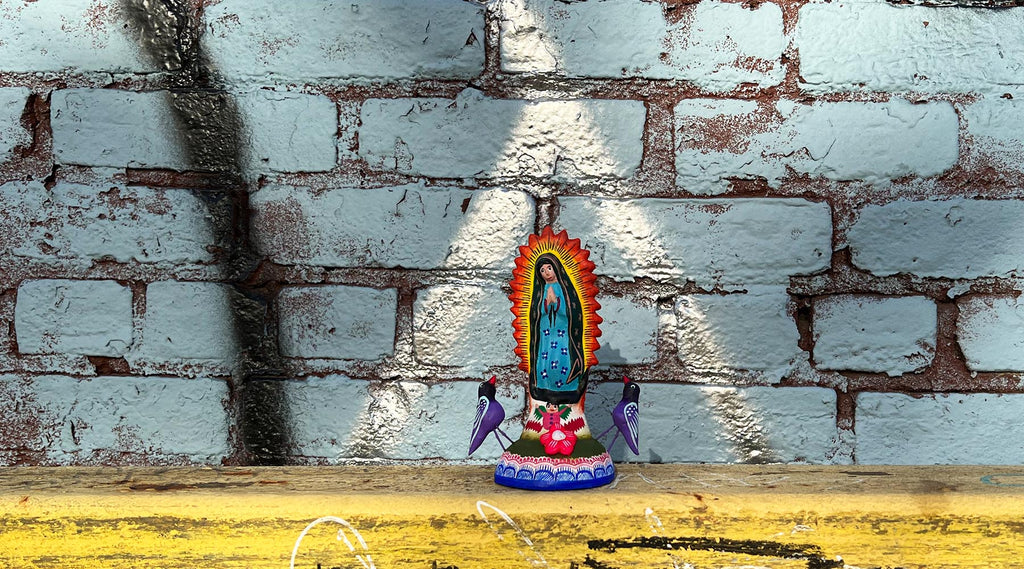 "PATRONESS SAINT OF FORGIVENESS"
La Virgen de Guadalupe is by far Mexico's most venerated saint and is known as the patroness of forgiveness, which makes her popular with those living on the wrong side of the law.
La Virgen first appeared to the peasant Juan Diego on December 9, 1531 on the Hill of Tepeyac. She was dark-skinned, encoded with Aztec symbols—sun, moon, and serpent—and spoke to him in his native language. She told him to relay a message to the bishop; build a church in her honor.
When the bishop asked for proof, she gave Juan Diego roses, blooming impossibly in winter, and rearranged them in his tilma [cloak]. When Juan Diego eagerly appeared before the bishop, he opened his tilma and released the roses. The bishop stood in astonishment because before him appeared a colorful image of La Virgen imprinted on the fabric of Juan Diego's tilma.
PRAYER VIRGEN DE GUADALUPE
Remember, O most gracious Virgin of Guadalupe, that in your apparitions on Mount Tepeyac you promised to show pity and compassion to all who, loving and trusting you, seek your help and protection. 
Accordingly, listen now to our supplications and grant us consolation and relief. We are full of hope that relying on your help, nothing can trouble or affect us. As you have remained with us through your admirable image, so now obtain for us the graces we need. Amen.
ORACION VIRGEN DE GUADALUPE
Recuerda, oh misericordiosa Virgen de Guadalupe, que en tus apariciones en el Monte de Tepeyac prometiste mostrar piedad y compasión a todos los que, amándote y confiando en ti, buscan tu ayuda y protección.
En consecuencia, escucha ahora nuestras súplicas y concédenos consuelo y alivio. Esperamos que, con su ayuda, nada pueda afectarnos. Como te has quedado con nosotros a través de tu imagen admirable, obtén ahora para nosotros las gracias que necesitamos. Amén.