JESUS MALVERDE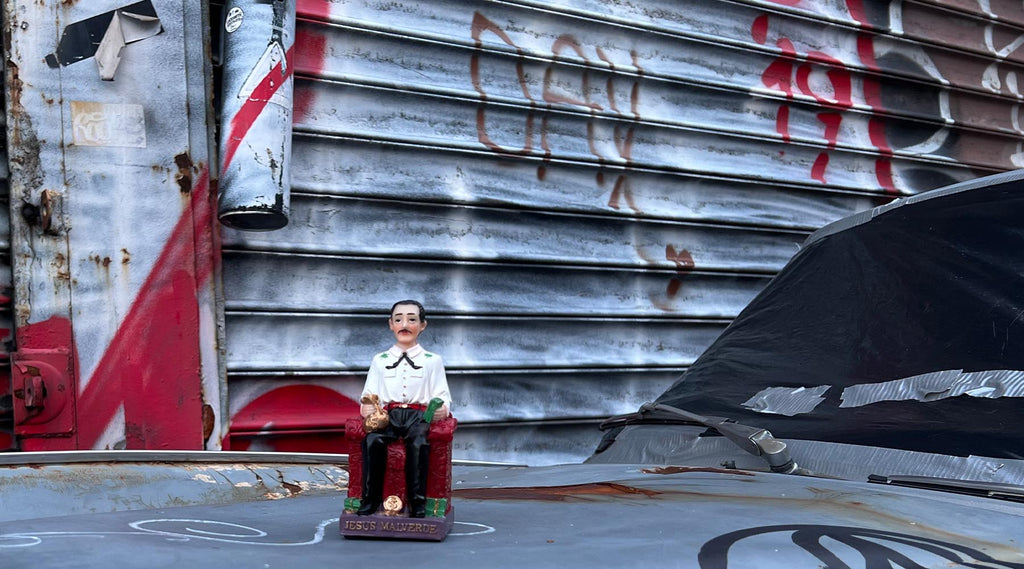 "ANGEL OF THE POOR"
Jesús Malverde is a popular Mexican folk hero and patron saint of drug traffickers. Legend has it that Malverde was a Robin Hood-type bandit who stole from the rich and gave to the poor, making him popular among Mexico's poor highland residents from which narco-traffickers emerged. 
Jesús Malverde is said to have been a carpenter, tailor, or railway worker who turned bandit after the death of his parents, which he attributed to their poverty [either hunger or a curable disease].
His nickname "Malverde" [Bad-Green] was given by his wealthy victims, deriving from an association between green and misfortune.
Accounts of his death vary, but most commonly stated that he was caught by the Mexican Government and hung on May 03, 1909. His body was supposed to have been denied a proper burial, being left to rot in public as an example.
PRAYER JESÚS ​​MALVERDE
OH! MALVERDE MY LORD, I ASK YOU FOR MERCY AND TO RELIEVE MY PAIN. YOU WHO DWELL IN THE GLORY OF GOD. LISTEN TO THE SUFFERINGS OF THIS HUMBLE SINNER. GRANT ME THIS FAVOR, FILL MY SOUL WITH JOY. GIVE ME HEALTH, LORD, GIVE ME REST, WELL-BEING AND MAKE ME BLESSED.
ORACION JESÚS MALVERDE
OH! MALVERDE MI SEÑOR, TE PIDO MISERICORDIA Y QUE ALIVIES MI DOLOR. TU QUE MORAS EN LA GLORIA Y ESTAS MUY CERCA DE DIOS, ESCHUCHA MIS SUFRIMENTOS DE ESTE HUMILDE PECADOR. CONCEDEME ESTE FAVOR LLENA MI ALMA DE GOZO. DAME SALUD, SEÑOR, DAME REPOSO DAME BINESTAR Y HAZME DICHOSO.